Growing in popularity over the past several years, mini-split systems are a great ductless heating and cooling option! These are a great solution for areas that aren't connected to the ductwork or are just problematic to heat or cool. Areas where mini-split systems are beneficial include home additions, garages, workshops and attics. It's also a great solution for historical homes that might not offer the ability to install added ductwork or is limited by architecture. It's not out of the ordinary to need an HVAC solution for just a couple rooms in your home. The compact design and super quiet indoor operation easily blends the mini-split system into the current environment.
Easy to install, mini-split systems economically put air into your targeted area. Compared to window units that can leave your home open to insects, weather and unwanted visitors, the mini-split system's installation helps keep your home safe. The indoor unit is affixed to your wall and is connected to the outside unit through a small hole in the wall.
Whatever your needs, Heartland Heating & Cooling has a product that will meet your wish list and qualified experts to help you increase your indoor comfort. There are also ductless mini-split systems that can give you the option to heat and cool the space in your house. They are as dependable as a central air conditioning unit and can be used in a zoning application.
If you are needing a mini-split installation in Des Moines or require repairs on your existing system, call Heartland Heating & Cooling at 515-344-3579 and our pros will be happy to help!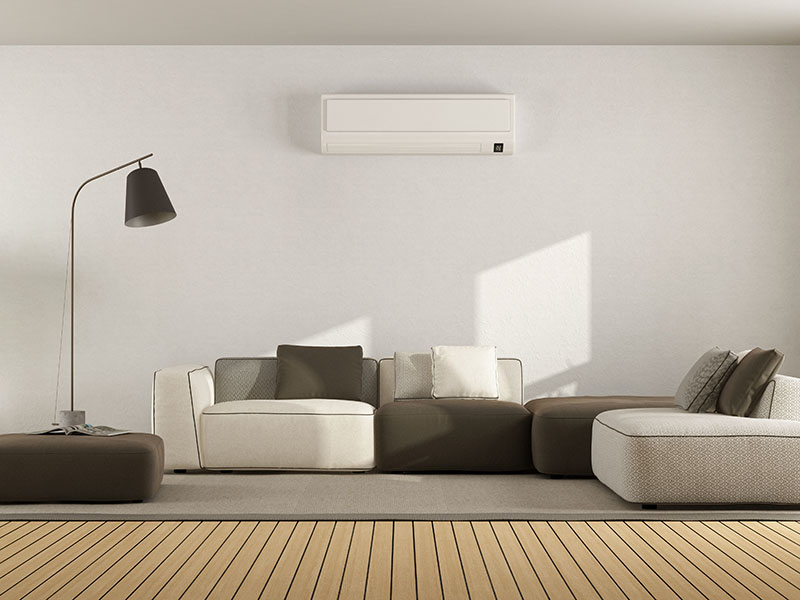 Four Advantages of Mini-Split Systems


Mini-splits offer a number of perks, including:
Affordable comfort—Mini-splits are one of the most cost-efficient ways you can heat and cool your house.
Heat and cool garages and additions—Mini-splits are a great way to add comfort to rooms without ductwork for traditional HVAC systems.
Secure, whisper-quiet operation—Window air conditioning units are noisy and aren't stable. They can expose your residence to intruders, insects and weather. Mini-splits offer quiet comfort while keeping your home protected.
Temperature zoning—One outdoor device can power multiple indoor units, allowing you to adjust the temperature from room to room.