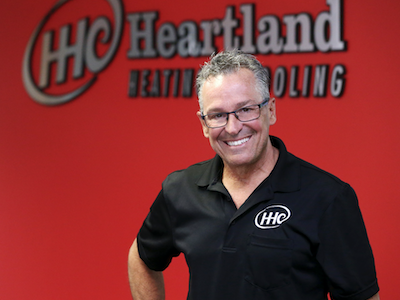 David Volante
Dave Volante is the owner of Heartland Heating & Cooling. Dave started in the construction industry over 35 years ago and co-founded Heartland Heating & Cooling in 2003. Originally from Chicago he has a strong Italian and Irish heritage. In 1986 he married his beautiful wife, Maria. Dave has raced sports cars all over the United States as a member of the Sports Car Club of America. But in the past several years has transitioned from sports cars to bicycles and now participates in long distance rides and races in central Iowa. He believes in making the world a better place each and every day. Be it big changes, small changes, through actions or attitude, giving of self or through contributions, Dave knows that we can each leave the world in a better place.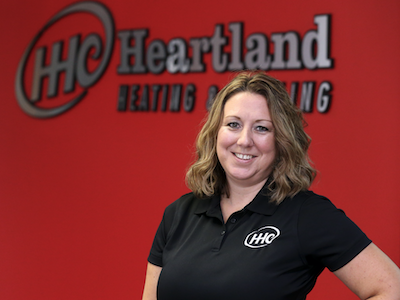 Corissa Franken
Corissa Franken is the Chief Operating Officer with Heartland Heating & Cooling. She joined Heartland in 2006 and worked her way up to Accounts Manager and then to C.O.O. in 2018. She has a mind for numbers and accounting. In 2019 she received her Master's in Accounting from Drake University and has since earned her CPA certification. Corissa and her husband Greg live in Clive with their two sons and their dog PJ. She is a very busy mom but still finds time for paddle boarding and kayaking with her family. Corissa also enjoys planning team outings and activities for her co-workers and employees at Heartland.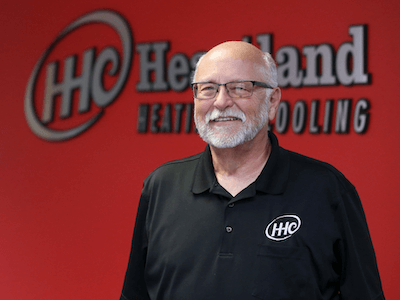 Ivan Landsverk
Ivan Landsverk has worked in the heating & cooling industry for over 30 years. As an experienced wholesale salesman and a trainer, Ivan joined Heartland Heating & Cooling and quickly became a vital asset. He holds many credentials including being a Nate Certified technician in Heat Pumps, Air Conditioners and Gas Furnaces. His strong belief in education lead him to becoming an instructor at ABC of Iowa for the HVAC Apprenticeship Program. Ivan enjoys bike riding, back packing in national parks and watching college football. He supports the Iowa Hawkeyes, the Simpson Storm & the Drake Bulldogs; but he is an Iowa State Cyclone at heart. Ivan is fluent in American Sign Language as both of his parents were deaf. He resides in Ankeny with his wife Bonnie while their daughter is currently working on her MBA at Drake University.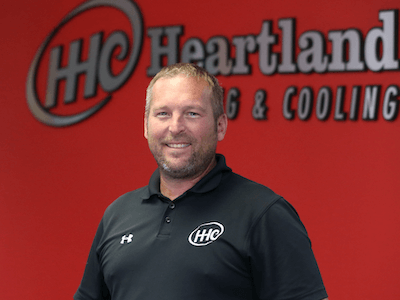 Joe Burkheimer
Joe is Heartland Heating & Cooling's Commercial Field Supervisor. He enjoys interacting with builders and employees on a daily basis. He has been in the construction industry for over 20 years and is proud to say that over 15 of those years have been with Heartland Heating & Cooling. Joe and his wife Jenny love cheering on their nephews in school baseball & football games. They also enjoy spending time with family and friends while watching football on TV or hosting bar-b-ques.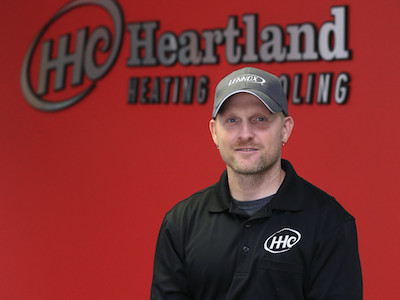 Brett Reisinger
Brett is the Residential Supervisor at Heartland Heating & Cooling. He has been with the company since 2007. He has over 20 years of experience in the industry after completing his education at DMACC. Brett is known to joke around; especially with his twin brother. He and his wife, Melissa, and two children on their family farm. Brett enjoys cheering on the Green Bay Packers and the Iowa State Cyclones. You can also find him challenging his kids in a go-kart race! He is a strong believer in never giving up and he jumps at the chance to prove any naysayers wrong.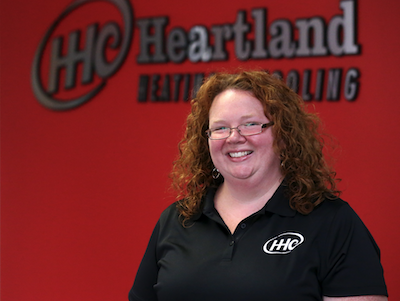 Sara Clayton
Sara has been a member of the Heartland family since 2006. She currently is our New Construction & Education Coordinator. She likes to be a resource to co-workers, builders and customers. Sara and her hubby Jerry, who also works for Heartland, live in Norwalk with their two daughters. In her spare time she likes crafting & baking with her kids and is often bringing in yummy treats for our staff to enjoy! She likes to travel and plan vacations for her family. Currently they are planning a cruise to Alaska!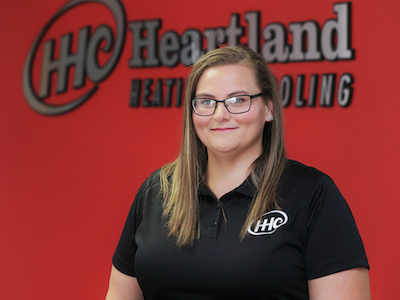 Jennifer Davis
Jenn is the Service Operations & Marketing Manager at Heartland Heating & Cooling. Hearing back from satisfied customers is one of her favorite parts of her job. She joined Heartland Heating & Cooling in 2013. An avid fantasy football player, she is a passionate sports fan. Kansas City Chiefs and the New York Yankees are among her favorite teams, although she has been a Chicago Bears fan since childhood! DaBears!! She likes to travel and try out new restaurants. She resides in Altoona where she likes to spend a lot of her free time with family.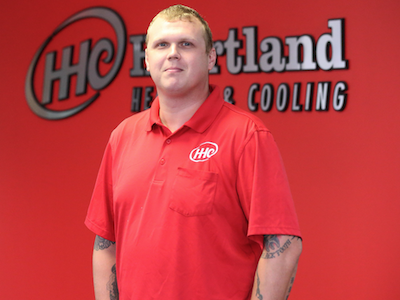 Jeremy Garland
Jeremy is a senior technician at Heartland Heating & Cooling. Jeremy joined Heartland in 2015 with over ten years of experience under his belt at the time. He relocated from Massachusetts to Des Moines with his wife to be closer to her family. Jeremy has proven himself to have a variety of HVAC skills and is an excellent resource for our commercial customers. Staying true to his roots he is a fan of New England Patriots along with the Boston Bruins, Red Sox & Celtics. Although he now cheers on the Iowa Hawkeyes as well! Jeremy also has a passion for music and as a former band member Jeremy has done his share of traveling; touring & visiting 48 states! Now that's impressive!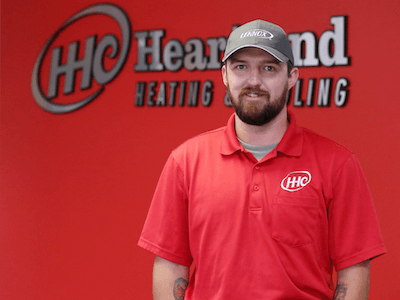 Trevor Thomas
Trevor is a licensed journeyman in the service department at Heartland Heating & Cooling. He attended and graduated the ABC of Iowa apprenticeship program while receiving invaluable on the job training at Heartland Heating & Cooling. As a versatile member of the service department you may find him at your door ready to take care of your HVAC system. In the warmer months Trevor likes to kayak down the rivers in central Iowa and take his dog, Laka, to the area dog parks.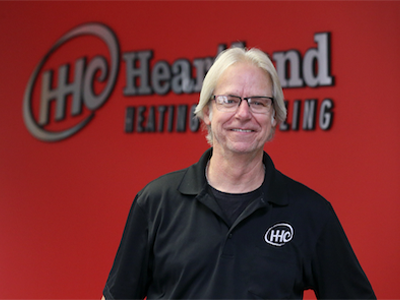 Marc Dorris
Marc has been with Heartland since 2004. From installations to repairs and now as the leading salesman, Marc has proven to be a pillar for Heartland Heating & Cooling. As a former surfer from Southern California, many friends and customers still refer to him as "California Marc". Marc is a family man and a much loved grandfather. He looks forward to visits and outings with his grandchildren, especially taking them fishing at the pond near his house in Altoona. Marc and his wife Penny like to travel, entertain and try out new recipes. Taking leisurely road trips with no specific routes is a favorite way they like to spend time together.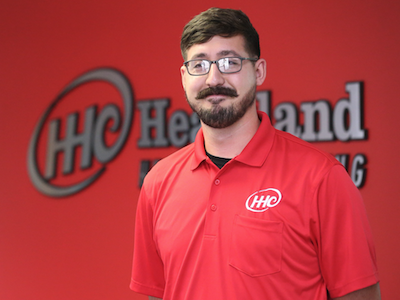 Brent Pitkin
Brent came to Heartland in 2021 from the Omaha area where he had already been in the HVAC industry for a few years. He is a welcomed and valued addition to our service department even though he is an Iowa Hawkeye fan. Brent enjoys spending his free time watching movies, playing video games & hiking with his girlfriend. Together they have 2 cats and a dwarf hamster named Chicken Nugget. They also challenge one another by cooking themed meals on a regular basis. Brent is an easy going fellow and sure to have a smile on his face whenever you see him.
Teresa Kuhl
Teresa thrives on positivity and she loves to make people happy. As Heartland's Comfort Team Service Rep she does a great job of getting to know our clients. Teresa joined the Heartland family in the summer of 2021 and was a quick fit with the rest of the office staff. She came to Heartland with over 15 years of experience in the home building & construction industries. Teresa really enjoys decorating, organizing & home projects of all sorts. She and her husband have built 3 new homes and remodeled a home built in 1900! Teresa, her husband & their son enjoy traveling, watching football & camping. The whole family loves watching scary movies and really gets into the Halloween spirit every fall!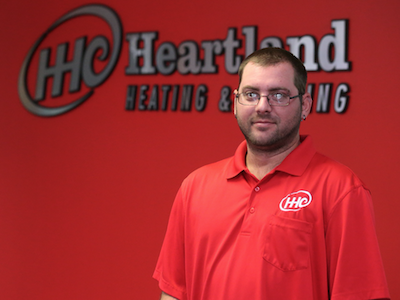 Tyler Bryant
Tyler joined Heartland Heating & Cooling in our new construction department in 2015. Since then he has transferred to our replacement division and occasionally lends a helping hand in our service department. Tyler is an Iowa native from West Des Moines. He currently resides in Windsor Heights with his wife. They are excitedly expecting their first child in March 2022. Tyler is a hockey fan & likes to go fishing whenever he gets the chance.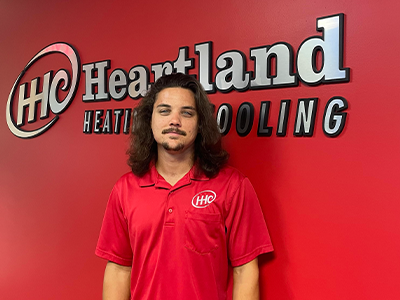 Josh Kasperski
Josh joined the Heartland Service Department in January 2022 after relocating from Ohio. As an experienced service technician he quickly proved himself to be a valued addition to the team. Josh and his girlfriend have a house in Des Moines with their two Aussie Blue Heelers. His favorite part of the house is the large fenced in yard for the dogs. He even enjoys the yardwork! Josh likes to spend his free time playing pool, playing video games, longboarding and rooting on his favorite football team, the Bengals. You can often find Josh joining in on the office banter after any good football game.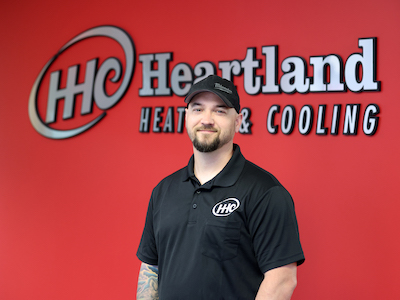 Nate Tounsley
Nate started in 2009 as a residential rough-in installer for our New Construction Department. He then transitioned into a lead for our Commercial division and currently is our Commercial Supervisor. As a long-standing employee with Heartland, Nate has proven he is a loyal employee and his approachable demeanor makes him easy to work with. Watching baseball, going fishing, exercising and hanging out with family are Nate's favorite pastimes. Nate and his wife, Candy, live in Pleasant Hill where they raised their 3 children.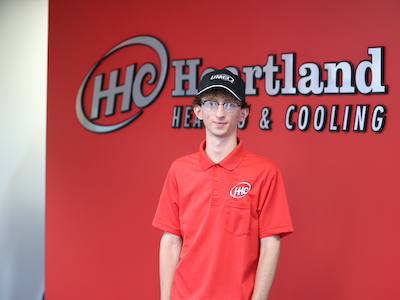 Tim Woolley
As a 2022 high school graduate, Tim Woolley jumped right into a career in heating & cooling. Tim is learning the ropes and proving himself to be a valued apprentice in the field. Tim has two miniature boxers, Chevy and Tass. When he's not watching the Hawkeyes he's typically found working on his Camaro or spending time with his family at Clear Lake.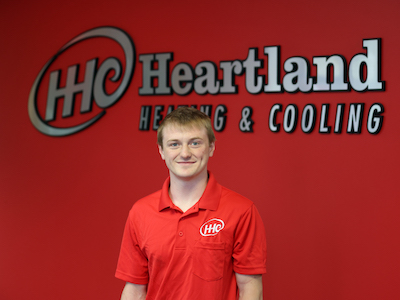 Lucas Schmitt
Lucas is a lead installer on Heartland's replacement department. After joining Heartland in 2019, he realized his potential and has set forth to make HVAC his career of choice. Lucas looks at each job as an opportunity to exceed industry standards while performing his best work. On his days off he enjoys traveling, playing golf, wake boarding, cooking and spending time with his girlfriend. Fun facts about Lucas: He cheers for the Broncos, he's very skilled at hacky sack, and he has the sweetest cat named Oliver.